Okay, okay, I know I said I wasn't in the holiday spirit, and wasn't planning on forcing it until December rolls around (still 2 days left of November and all). BUT! My nephew started a love affair with a new movie. We sat and watched Charlie Brown Christmas about 7 times today. He loves when Snoopy skates, and dances, and when the kids are all dancing to the song Linus and Lucy, oh man do we breaks it down. (An aside- I LOVE little kid dancing, which usually consists of the sticking out of big diapered butt and bouncing. Sigh, I want one. A baby, not a diapered butt, I'm a little young for that!)
The best part is that he calls the movie Shoo-pie. Which is both a strangely adorable mispronunciation of Snoopy's name and further confirmation that my sister gave birth to Cartman from South Park. You just have to hear his voice.
So I got to thinking about holiday time movies that I like. My all time favorite, which I watched tonight with my sister, is Scrooged-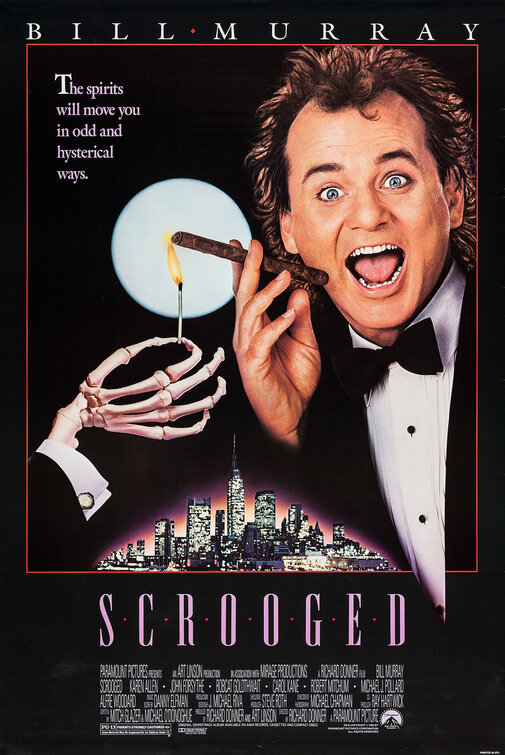 Come on, Bill Murray, eighties capitalism, and a feel-good ending where the hard-hearted exec comes to Jesus, er, gets the Christmas spirit? ME LIKEY! It reminds me of when I was in 6th grade and had mono over Christmas. I know, I know, big slut ho. I have no idea how I got it, seeing as how I didn't even kiss anyone till later in the year. The other thing that reminds me of having mono is the movie Silkwood, which scared the bejeebus out of me when I wasn't feverish, and which my mom made me watch. I was very dramatic in those days, and was sure I was dying of radiation poisoning. Between that, the way I felt and the smell of the eggroll my mom had microwaved, I never wanted to curl up and die more in my life. So far ;)
Holy tangent, batman! Tell me, fair readers, what are your favorite Christmassy-type movies?